---
Our Savior Evangelical Lutheran Church supports Rev. Adam Lehman and his family in their missionary work in Spain. The Lord has called him to proclaim the Gospel and administer the Sacraments to emerging Spanish flocks, plant Lutheran churches throughout Spain, as well as search for Spanish pastoral candidates to eventually care for those churches.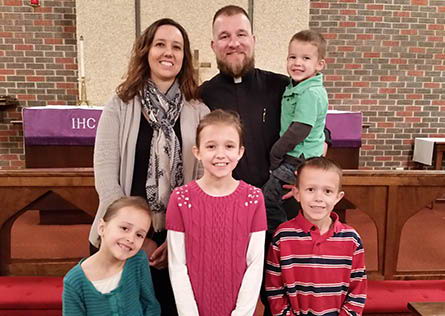 Please help us to support them with your prayer, money, and encouragement. Keep Rev. Lehman, his wife Christine, and their children Jonah, Abigail, Noah, & Hannah in your prayers. Ask God to bless their work and gather His people around Word and Sacrament as the beginning of a Spanish Reformation takes place in that country.
Monetary donations can made online (www.lmcs.org/lehman) or by check to:
The Lutheran Church – Missouri Synod
P.O. Box 66861
St. Louis, MO 63166-6861
Simply make out the check to The Lutheran Church—Missouri Synod, with "Lehman – Spain" in the memo line of the check.
Lastly, offer encouragement to them. Here are a few special days for the Lehman family:
Birthdays:
Adam - March 16
Christine - July 7
Hannah - Nov. 1
Noah - Aug. 5
Abigail - Feb. 4
Jonah - May 9
Wedding Anniversary: May 11
Our Savior Evangelical Lutheran Church